You don't have to move to a wooden shed somewhere and install your own solar panels to start making a difference to the planet. Here's a handful of sustainable tweaks that will have a small impact on your life – but a big one on the world.
***
1. DIY your cleaning products
Next time your kitchen surface cleaner runs out, keep hold of the spray bottle. Rather than picking up a fresh one, mix a 2:1 ratio of fermented, raw apple cider vinegar (the properly funky type, which cites 'with the mother' on the bottle) with water. The vinegar's acid acts to kill bacteria, and, as it's diluted, it won't erode or cause damage to your counters.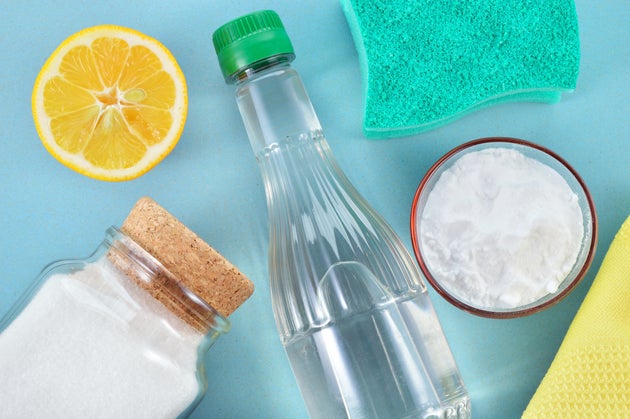 Photo: Getty
2. Download this app
As much as 70 per cent of food waste takes place within our own homes. We're busy people and sometimes those ingredients for a stir-fry we planned to make have gone off by the time you get to spend one evening in. Food sharing apps such as OLIO are a great way to join the revolution and connect with neighbours and local shops who have surplus food that would otherwise go to waste. You can easily list the food you have going spare so others can find it or search for ingredients missing from your own cupboard.
Photo: Facebook/
OLIO
3. Go electric
Do away with the envelope open of dread and enjoy that delicious sick feeling via your inbox, instead! Bank statements, electricity bills, credit card stuff and mortgage payments can all be switched to be sent digitally.
Photo: Pexels
4. Lighten up
Swapping normal light bulbs for compact fluorescent or energy saving bulbs can save four times the amount of energy you use on lighting in your home. It's also practical because energy-efficient bulbs last up to ten times as long and the variety available now mean that you don't have to sit in a dimly lit room to feel like you're doing your bit for the environment.
Photo: Pexels
5. Try a clothing swap
We all know someone whose wardrobe we want to raid and a clothes swap is basically just that, en-masse. Simply bring along your unwanted clothing items and swap them for tokens which can then be redeemed against pre-loved pieces. Not only are you ensuring the continued usage of your garments, you're also ensuring the same for the clothing of others. Clothing swaps are a great place to meet other like-minded people. If you're a keen bargain hunter or love rummaging around a carboot sale on a Sunday, this is your new sustainable living go-to. If you can't physically attend an event then head online where websites such as The Good Wardrobe list lots of sites for online clothes swapping.
6. Cut back on the animal stuff
Eating a plant-based diet is a great way to do our bit for the earth. Thirty per cent of our land is used to rear livestock and the meat-production industry contributes 65 per cent of all human-related nitrous oxide into the atmosphere. Try switching up dairy for tahini, cheese for hummus and and chicken for puy lentils.
7. Actually use a canvas bag or rucksack
By now we are all familiar with the 5p plastic bag charge in most shops and supermarkets and stats from the Department for Environment, Food and Rural Affairs (Defra) show that it has cut usage by 85 per cent. However, there are still over 100 million plastic bags being used on a yearly basis by the British public. The fact is that plastic bags break, certainly the supermarket ones, and investing in a canvas bag may require a slightly higher outlay but it pays off in the long run. As well as being useful for supermarket trips, large canvas bags are good for storage and moving and the trend for using them instead of a handbag shows no sign of slowing down.
Photo: Pexels
8. Wash clothing on cold
Chilly, sure, but washing your clothes on cold is a surprising efficient way to save energy. According to The Worldwatch Institute, 85 per cent of the energy used in a wash cycle goes to heating up the water.
9. Step out of the shower
There are lots of eco-shower's available on the market but they are costly and we don't always have time to wait around for someone to come and fit it for us. Luckily though, there is another way. Research conducted by Boston University shows that cutting just two minutes from your shower time can save 10 gallons of water a year.
See Also:
How This Summer's Festivals Are Having A Sustainable Overhaul
10 Easy Steps To Follow To Practice Sustainable Tourism
I Moved To China, And What I Saw Changed The Way I Think About Clothes Forever